Below you can find how to create a Cadence with touches.
In the Cadences tab, click on the New Cadence button on the top-right to create a new cadence.

After the New Cadence window pops up, enter the Cadence Name and Description in the respective fields.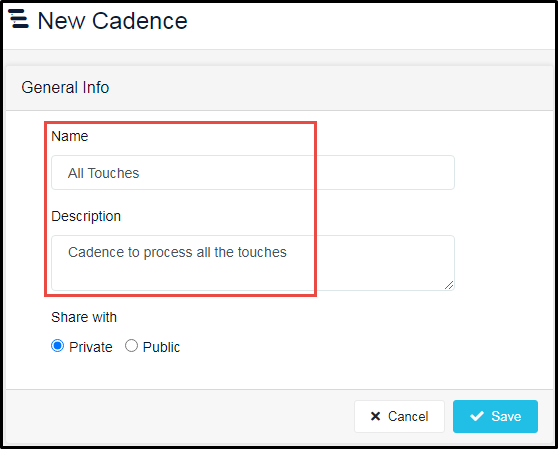 NOTE: The field Description is optional i.e. non-mandatory.
Select the sharing option from the Share with section.
Please refer to the article 'How do I share a Cadence?' for detailed information on sharing a Cadence.
Click Save to create a Cadence and proceed to add your touches.
A confirmation message 'Success! Cadence has been saved' will be displayed.

At the top-right of the page, you can find the buttons of the below touch types:

Add Email Touch

Add Call Touch

Add Social Touch

Add LinkedIn Touch

Add Task Touch
Click the touch-type you wish to add and enter the required details in the respective windows and click Save to save the touches.
Please contact Koncert Support for any questions at support@koncert.com or 603-952-2505.
NOTE: The information provided here is for informational purposes only and should not be considered as a legal advice. Please consult your legal counsel regarding compliance with relevant laws.