Below you can find how to schedule an Email Touch:
In the View Cadence window, click the Email Touch button at the top-right of the page.

After the Add Email Touch window pops up, provide all the required details.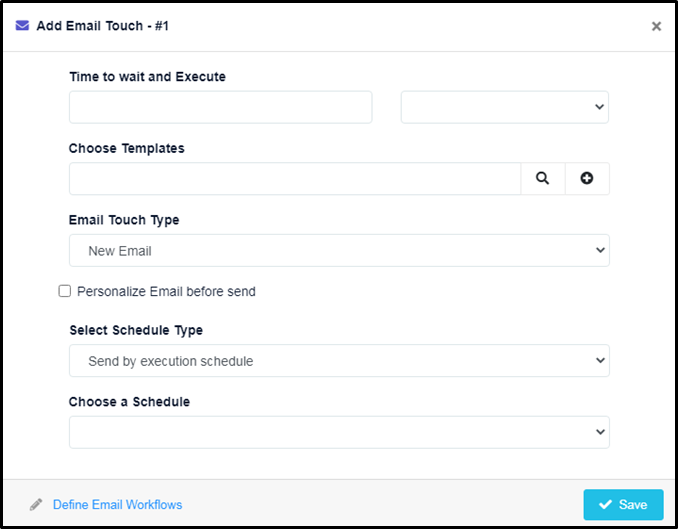 To schedule an email touch, select a Schedule Type as either Send by Execution Schedule or Send by Exact Date/Time.
Send by Execution Schedule – Select to send the Email based on the pre-defined schedule selected in the Choose a Schedule dropdown (created under Settings » Email Execution Schedule)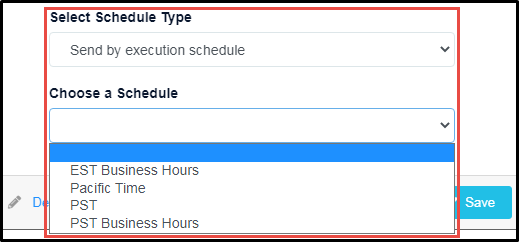 Send by Exact Date/Time – Select to schedule and send the Email on an exact date/time selected from the Date/Time & Timezone field.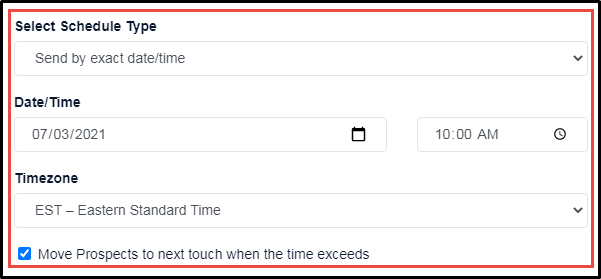 Move Prospects to next Touch when the time exceeds – This option will be displayed upon selecting the Schedule Type 'Send by exact date/time'. Select to move the prospects (assigned to this scheduled Email Touch) to the next touch automatically when the touch execution fails due to any technical issue.
NOTE: If there is no further/next touch in the current Cadence, the prospects will be exited from the Cadence.
Click Save to save the Email touch.
Please contact Koncert Support for any questions at support@koncert.com or 603-952-2505.