You can upload your videos/demos to an Email Template using an online video platform called Vidyard.
Using Vidyard, you can perform the following actions:
Camera Recording – Option to record your camera & upload your videos/demos.
Screen Recording – Option to record your screen and upload your videos/demos.
Upload Videos – Option to upload your videos that are saved previously in Vidyard.
Below you can find how to add a video to an email template:
In the Cadence » Email Templates tab,
Click on the Add a Template button to add a new Email Template, or

Hover over on a Template that you wish to clone and click on the Clone icon in the floating toolbar, or

Click on the respective Template you wish to edit

After the Add/Clone/Edit Email Template window pops up, click on the Video icon in the formatting bar.

This will launch the Vidyard Videos window, where you have to Sign In with your existing Google account or have to Sign Up.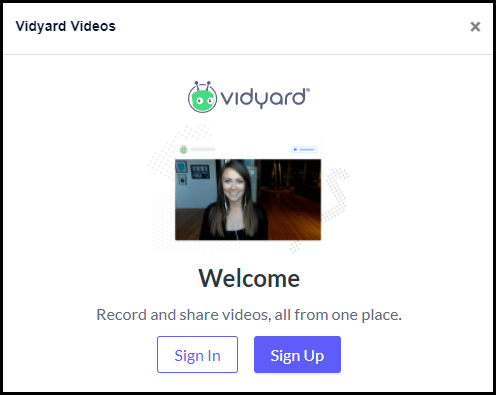 NOTE: You can find the Video icon

in the formatting bar. If it is not available then please contact Koncert Support to enable this for you.
Select the pre-recorded/uploaded videos that you would like to attach and send to your prospects.
You can find the selected video(s) in the Email Template.
Click Save to save the template.
Please contact Koncert Support for any questions at support@koncert.com or 603-952-2505.