Below you can find how to create a Call Touch:
In the View Cadence window, click the Call Touch button at the top-right of the page.

After the Add Call Touch window pops up, provide the General Info details and define the Workflow Action(s).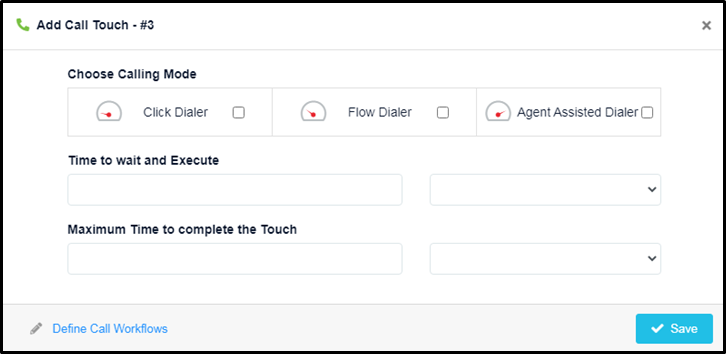 General Info
Choose Calling Mode – Select the dialer(s) you want to use when dialing the prospects in this touch.
NOTE: You can only use the licensed dialers that are included in your subscription.
Time to wait and Execute – Select the delay time in minutes/hours/days to execute the call touch. The prospects will be moved to the Pending Calls tab automatically for dialing after the specified wait time.
Maximum Time to complete the Touch – Select the maximum time you wish the prospects to stay in the Pending Calls tab (in minutes/hours/days). If the touch is not completed in that time frame, prospects will fall under the touch outcome - 'Fall Through'. Also, the prospects will be removed from the Pending Calls tab and moved to the next touch.
Define Workflow Action(s)
After completing the General Info section, click Define Call Workflows link at the bottom to display the Workflow Actions, where you can assign the appropriate action that will be performed for each call outcome.
The following are the default actions available under the dropdown for each Call Outcome: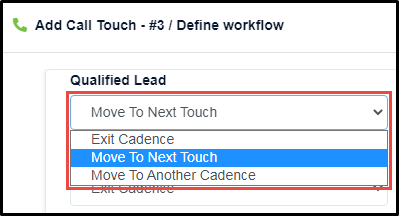 Exit Cadence – Select to exit the prospect(s) from the cadence.
Move to Next Touch – Select to move the prospect(s) to the next touch, e.g. Social Touch
Move to Another Cadence – Select to move the prospect(s) to another cadence. Once you have selected this option, a dropdown field will be enabled to select a cadence that the prospect will be moved to.
NOTE: When the option 'Move to Another Cadence' is selected, the prospect will be exited from the current Cadence and moved to the Cadence selected.
Click Save to save the Call touch. After successful creation, the below confirmation message will be displayed.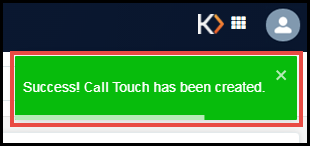 The Call Touch Info will be displayed as shown below: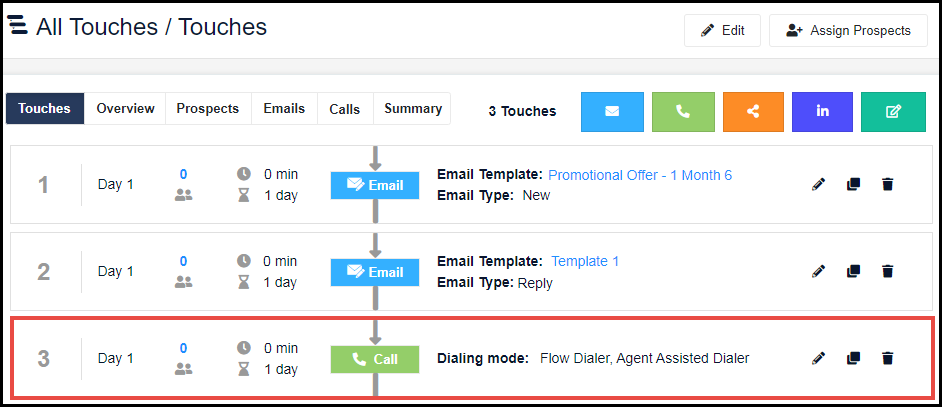 Please contact Koncert Support for any questions at support@koncert.com or 603-952-2505.