Below you can find how to delete an Email Template:
In the Cadence » Templates » Email Templates tab, mouse hover on a Template that you want to delete.

Click the Delete icon on the floating toolbar.

A confirmation message below will be displayed. Click Delete to delete the template.

After successful deletion, an alert message below will be displayed.

NOTE: When deleting a Template that is being used by a Cadence and in Active status, the following alert message will be displayed and the template cannot be deleted.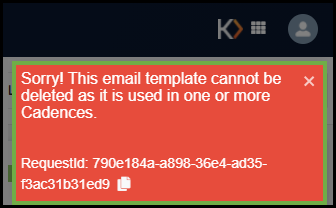 Please contact Koncert Support for any questions at support@koncert.com or 603-952-2505.