Below you can find how to edit a Tag in the Settings tab:
In the Cadence » Settings » Tags tab, click on the Edit icon (under the Action column) to the right of the tag which you want to edit.
After the Update Tag window pops up, make the necessary changes and click Update.

After the successful update, a confirmation message below will be displayed.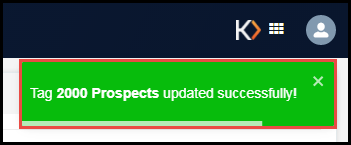 The tag name will be updated in the grid
Please contact Koncert Support for any questions at support@koncert.com or 603-952-2505.