You can snooze a manual Task logged in the To Do tab that is due and choose to have them resurface after the specified day/time range. The records will be moved to the selected date until the snooze time is up.
Below you can find how to snooze a manual Task in the To Do tab:
In the To Do tab, navigate to the Task tab
Click on the ellipses button to the right of the manual task record that you want to snooze and select the option Snooze from the dropdown menu.

The Snooze - <Prospect Name (Account Name)> window will be displayed and defaults to a snooze period of 1 hour.

Select the snooze period from the dropdown and click Snooze.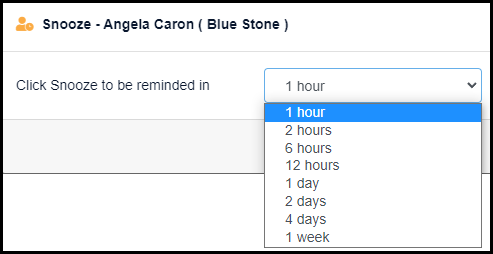 The record will be removed from the Tasks tab and will be displayed again after the specified snooze period.
Please contact Koncert Support for any questions at support@koncert.com or 603-952-2505.